TTComputers Main Services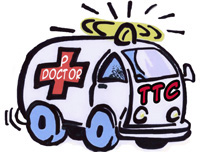 With broadband installed in most homes and offices
Networking wireless and or hardwired is a must. File-sharing, printer sharing and internet sharing for Laptops and Pc's.
Home and Business
Pc and Laptop upgrades / servicing Pc's built to your specifications Spyware / Virus removal Problem solving Free Advice

TTC are available to make house calls at your home or business during regular hours at our normal rates*. If we find that a problem is going to take considerable time, you can save you money by letting us take your machine back to our "Hospital", where we'll perform the appropriate surgery or administer the right medication to cure its ills and give your systems a clean bill of health
O
ur main callouts consist of
Viruses, worms, spyware, malware, spam.
Unseen forces are just waiting to attack your system! These unwelcome annoyances will wreak havoc with your computer. One call to The Pc Doctors, and help is on the way. We've got the right medicine, and then the right preventative programs to help keep your computer healthy for a long time.

Windows operating system, you are at risk for:
• Viruses
• Spyware
• Malicious software (malware)
• Spam
These threats can:
• Slow your system down
• Capture information that you don't want known
• Cost you time & money in your business
• Be aggravating and annoying
New Remote Network Assistance
New to our services : Remote Network connection As long as you have a broadband connection we can, with your consent, remotely connect to you and assist with any minor, or semi major, problems you may have. This part of our service is to assist you without a callout and also for us to give you a better service and for us a foresight into your problems.
A Remote session must be previously booked either email or phone to make arrangements